You are here
ClubFootball World Football Skills Camps 2020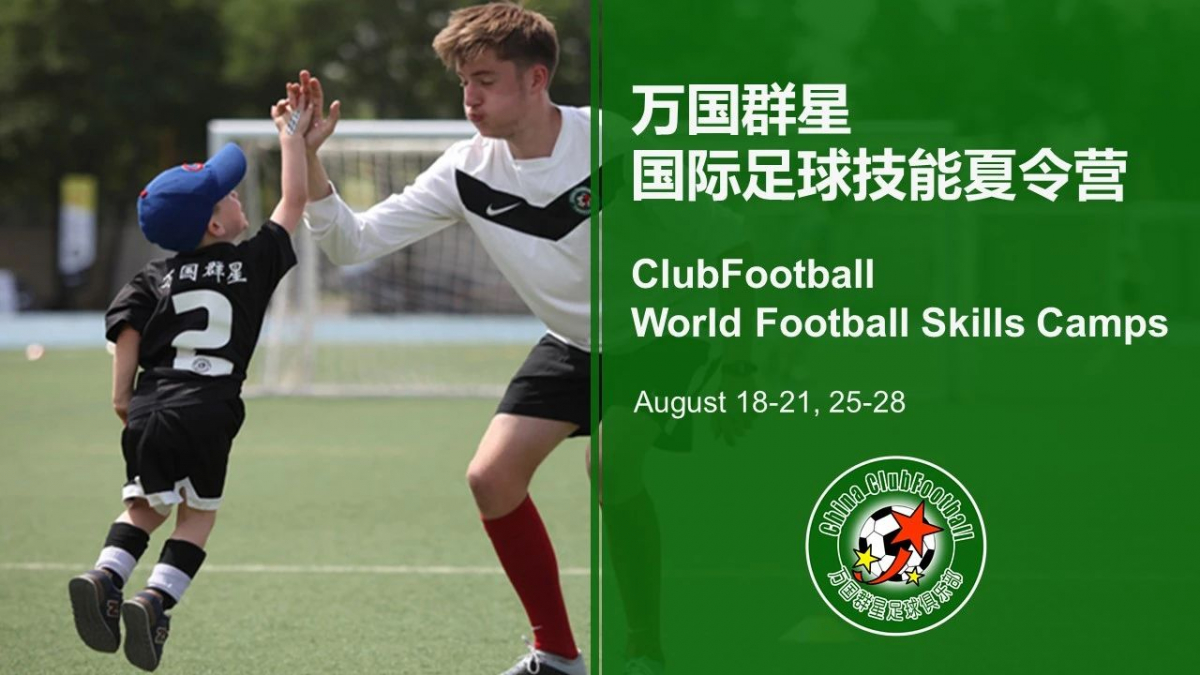 Players aged 5 to 14 can register now for ClubFootball's World Football Skills Camp at Chaoyang Park! The camps run for 4 days from Tuesday to Friday, with Week 1 on 18-21st and Week 2 on 25-28th August.

Camps focus on developing the skills and techniques used by the world's famous footballing nations and are great fun! As always, sessions are coached by ClubFootball's FA/UEFA qualified coaches from the UK & Europe.
Curriculum
DAY 1 Brazilian Football Carnival!


Day 1 focuses on the creativity of the famous Brazilian team! The 5-times World Cup winners are recognisable by their bright yellow shirts and their flair for the game!
• Players explore different ways to dribble, using skill moves to beat defenders in 1v1 situations. Players are encouraged to be as creative as possible, and work together to make up their own brilliant Brazilian skills!
• Day 1 concludes with a 1v1 'beach football' competition (don't worry – they won't get sand in their shoes for this one!) where they will be able to test their progress against the other children.

DAY 2 Spanish Football Fiesta!
Day 2 is 'tika-taka' day. The Spanish team won the World Cup and European Championships back-to-back playing this style of football.
• Pass-pass-pass; quickly and accurately so the opposition can't get anywhere near the ball! This style of play was made famous by Barcelona's unbelievable team of the same period. Our aim will be to get the children playing with a similar style!
• Day 2's matchplay will feature small-sided games where players are encouraged to keep possession to tire out the opposition!!

DAY 3 German Teamwork!

Day 3 is about communication, cooperation and teamwork – replicating the outstanding German teams of recent years.
• The best German sides have been built around a solid defensive unit, so Day 3 centres on those keen defenders and midfield players. We look at the defence, passing and dribbling which make those units work so well, and the team cohesion which knits it all together.
• Attacking players work individually and in pairs to find ways to break down the opposition throughout the day too! Hard work, good communication and lots of imagination is required!
DAY 4 Attack like England & World Cup Day!

Day 4 is all about goals, and scoring them in our end of camp World Cup!!!!
• The current young English team is exceptionally exciting going forward – with hard working midfield players and strong, quick and inventive attacking players.
• We explore how to attack with speed and bravery, experimenting with different ways to shoot and score goals, creating assists for your team-mates, and working on our decision-making.
Our end of camp World Cup competition gives players the chance to play for their favourite team and to score lots of goals! Fun matches round off the day with players practicing all of our skills from the week, and going home with a big smile and a tournament prize too!
Course Information
Chaoyang Park - ClubFootball World Football Skills Camps - Pitch 12

Grades

Date of Birth

Days

Session Time


Course Fee(per day)

Course Fee(per week)

K/1

2013.09.01 - 2015.08.31

4

08:00 - 10:00

RMB 350

RMB 1200

2-9


2005.09.01 - 2013.08.31

4

08:00 - 11:00

RMB 500

RMB 1800



Week 1: Aug 18-21, Week 2: Aug 25-28
Course Notes
*Important Update: All parents are asked to read the club's Discount & Refund Policies and Bad Weather & Pollution Policies before registering.

*Course fees do not include uniform. ClubFootball Nike 2020 uniforms (shirt, shorts, socks and shinpads) are available, cost 200 Rmb.

*All course time will be at Pitch 12.
*For group discounts, please contact us.
*Please note WGQXJuniors is set up especially for players registered on ClubFootball courses. Please follow this account for latest updates and important news on venue changes and weather issues.
How To Register
Please note that students unavailable for these class-times can contact us for details on other courses nearby. To ensure groups are well-organised, players are asked to complete their registration and pay thier course fee as soon as possible. Places are limited and are allocated on a first-come, first-served basis.
At ClubFootball:

China ClubFootball, Unit A316, Door 3, Zone A1, Zhaowei Huadeng Plaza, Zhaowei Building #51, 14 Jiuxianqiao Road, Chaoyang District. (Tel: (010) 5130 6893/4/5/6), open Monday to Friday, 9am - 6pm

At ClubFootball WeChat platform any time
Online (contact us for info)
To your coach (students currently on ClubFootball courses can register directly with their coach)
By phone/email: Please call ClubFootball on 5130 6893/4/5/6 or email us

to register. Please note that course registrations can only be accepted with the correct course fee. Please

contact us

for bank details if you prefer to pay course fees by bank transfer.