You are here
ClubFootball MiniSkills Introduction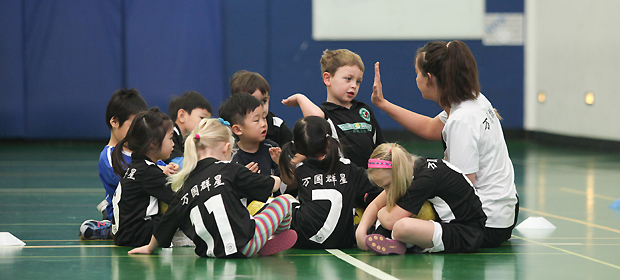 ClubFootball's MiniSkills programmes run for boys and girls from 3-5 years old and provide a fun and educational introduction to the game.
Courses develop balance, coordination and general motor skills, and build self-confidence through a wide variety of fun games, challenges and songs. Participation and engagement is key as kids get familiar with the ball and, above all, learn that football is fun!
Sessions are non-competitive with younger kids, with small challenges introduced to the older children. Players develop listening skills and the ability to follow instructions, learning to work together to reach a common goal. Older children begin to learn the basic dribbling, passing and shooting techniques which will form the basis of the skills required to progress to ClubFootball's Skills Courses.
Sessions are taught by ClubFootball coaches who specialise in working with this age-group, and parental involvement may be required with younger children.
Classes run at weekends at venues across the city including ISB, BSB Sanlitun, YCIS, and Tiantongyuan, as well as during the week at a range of local and international kindergartens. For times of the weekend courses, please click on Skills Courses in the top toolbar, and select the venue of your choice for schedules including MiniSkills Courses.
To arrange a free taster session to try out our MiniSkills programme, please click here.