CF U17 Team vs Guoan: A Challenging Test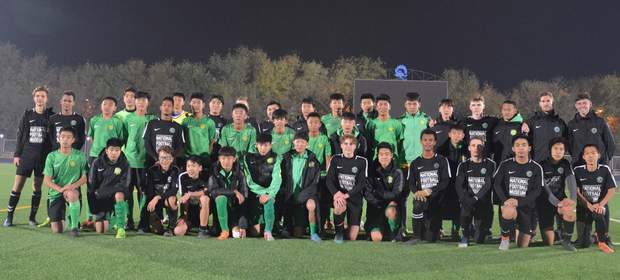 ClubFootball's U17 boys were given a fantastic opportunity to play against Beijing Guoan's U16 team on the evening of Thursday, Nov. 8th, in a challenging game that would test their development against a top opposition.

ClubFootball's U17 team is a collection of players from across Beijing, bringing together students from both Chinese and International schools that are passionate about playing regular competitive football. The team is coached by ClubFootball coaches Rob, Colm and Mike, and this season the team has worked on creating space in wide areas, switching play, overlapping runs and playing into the final third. The team currently plays weekly matches in an adults league in Beijing, so a game against a similar aged Guoan team was a welcome change from playing against older opposition.

The majority of the ClubFootball team is made up of players that have made their way through ClubFootball's development pathway, including Max Au who began in our skills classes ten years ago, before progressing into our junior league teams where he benefitted from our positional rotation philosophy to increase player's overall understanding of being a young footballer. Max excelled in all positions and eventually settled on wanting to play as a goalkeeper, and it's evident he still benefits from his time outfield as a younger play by the way he plays out from the back with excellent control and distribution, whilst always offering a backwards option when the team can't play forward.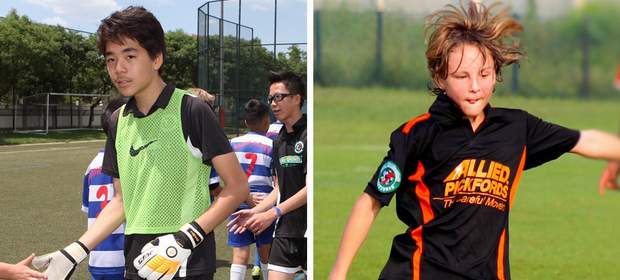 (Max in 2015 and Wesley in 2012)

Wesley Gates and Joel Tshiamala are two other lifelong ClubFootball players that featured in Thursday's match, having both joined the club over seven years ago. Both players exemplify creativity, a highly encouraged aspect of ClubFootball's coaching methods. Both player's creativity was on show during the game, with Wesley starting as a left wing back looking to overlap into space when possible, whilst Joel played as both a striker and an attacking midfielder and used his 1v1 dominance to score a well-deserved hat-trick.

As always, the ClubFootball coaches set challenges on the night for the team to achieve throughout the match. This encourages players to think about the way they play, instead of only focusing on the result of a match. This helps with long term player development and is consistent to all ClubFootball's junior teams. Challenges on the night including to put into practice recent training sessions on creating space for overlapping and switches of play, bravery in 1v1 and 2v1 situations and the psychological and social challenges of concentration and on pitch coaching from all players when out of possession, to ensure as a team we were closing space to make it difficult for the opposition to play forwards. This challenge was well demonstrated by the team, in particular by captain Sweder Jacobs who gave regular feedback to teammates throughout the match. Sweder's performance was topped off with an excellent goal from a 30 yard free kick!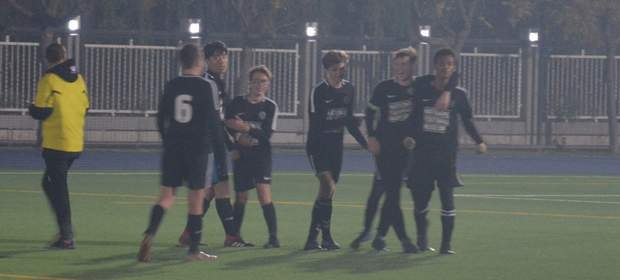 A big thank you to Beijing Guoan for the match, their U16 team is a collection of outstanding players who are very comfortable in possession and organized when defending. ClubFootball's players were appreciative of the experience and learned a lot from the match. We hope to play them again soon!

If your child is in a ClubFootball league team, we hope they continue to play with us as they get older and move towards our U17 programme. The ClubFootball development pathway aims to cater for children of all ages interested in playing competitive football, in an educational and enjoyable coaching environment. If your child is not in a ClubFootball course or team but would like to try out for one, please contact us to arrange a free tester class!
ClubFootball's lineup: Max Au, Larona Bokgolea, Erik Smerznak, Harry Szeto, Wesley Gates, Victor Ferreira, Victor Theisen, Sweder Jacobs(c), Tim Tegner, Bob Lee, Joel Tshiamala, Clement Wang, Terry Tang, Henry He, Sammy Xiao, Christian Keller.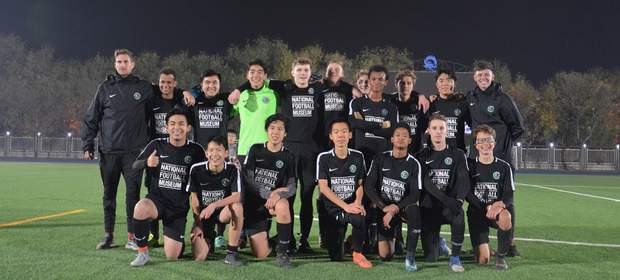 Final score: ClubFootball U17 4-2 Beijing Guoan U16.
Latest news: Both sides enjoyed the game so much they had a rematch on Thursday 15th November! This game was also keenly contested, with Guoan narrowly winning 2-1 in a close encounter. Well played to both sides for an excellent game of football!