New Prize for Bobby Zamora Campers!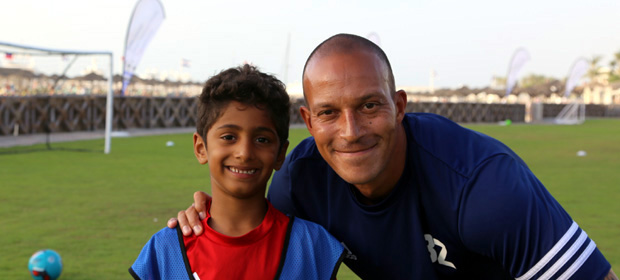 Another fantastic prize has been unveiled by Premier League and England striker Bobby Zamora, who'll be leading a football camp at Yanqi Island Managed by Kempinski during the October Golden Week holiday.

All camp participants will be entered into a draw to win a Tottenham Hotspur shirt cosigned by Bobby and Bobby's good friend and colleague Teddy Sheringham!

Players aged 5 to 18 years can register for the football camp only, or take advantage of a great package to stay at the luxurious & spectacular hotel on Yanqi Island, whilst also participating in the 4-day camp (from 2nd to 5th October).

Both options include a breakfast or lunch reception with Bobby and his professional coaches from UK, and of course a full kit pack comprising of a kitbag, shirt, shorts, socks and bib. All participants will also receive a certificate that's personally signed by the Premier League striker himself.
Interested parties can call 6961 8888-3611/7/8 to get more info or to apply to join the camp.