ClubFootball Men's
5-a-side Leagues
Play ClubFootball
Men & Ladies Football
ClubFootball News - Ladies Football
Sign Up Now For ClubFootball Women's Sessions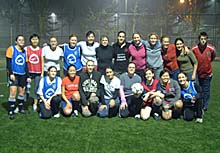 Contact us now to sign up for ClubFootball's women's football sessions at Chaoyang Park!

The women's squad play every Monday - the first 45 minutes of the session are fun skill-building coaching activities with a UEFA-qualified coach, the second 45 mins lets players put their skills into practice in a game situation. Players of all levels welcome; please get in touch now or call 6417 0495 to reserve a place.
Sign Up Now For ClubFootball's Women's Football!
Women footballers of all levels can get in touch now to reserve a place for ClubFootball's new Monday night women's football sessions!

Sessions are from 20:00 - 21:30pm at the East Gate of Chaoyang Park, and are open to all, from beginners to experienced players. The session will be taken by one of ClubFootball's UEFA qualified coaches, and will be broken into 2 x 45 minute blocks. In the first 45 mins, players will develop their skills through fun skill building games and activities. In the second 45, players will put their skills to the test in a game!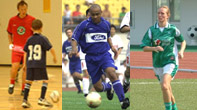 ClubFootball invites men, women and children in Beijing to come along and play football NOW! Players of all levels are welcome for indoor and outdoor football!

Need to work on your skills? Then why not come along to the club's midweek coaching sessions for adults! Sessions are taken by the club's FA-qualified coaching staff and are open to all. For more information and to get playing, please click here.