Beijing Vikings, Spring/Summer 5-a-side Champions!
Posted on Wednesday, June 25 @ 16:08:40 CST by cfpr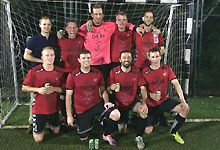 Congratulations to the mighty Beijing Vikings, Champions of the Spring/Summer 2014 Etihad Airways ClubFootball 5-a-side League!

With 9 wins in their 14 matches and the best defence in the league, the Vikings finished 5 points clear of Sporting de Carmen in second! Well played to all other divisional champions! Please click on the link above for final standings from all divisions.