ClubFootball Fan Channel - English Through Football
ClubFootball Crosswords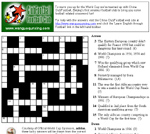 For those looking for a stiffer test ClubFootball Crosswords provide the anwer! Designed to help familiarise you with English vocabulary whilst practising lateral thinking in a different language (They're fun too!! :-))

General football vocabulary is covered with a few basic puzzles to get you started, with themes such as the World Cup and Eurpean football to strech your football knowledge.




English Through Football activities in this category:



· World Cup



Complete the puzzle using the names of some of the stars of FIFA World Cup 2002.


· Football Vocabulary


Football Vocabulary Learning (03/05/2002)
Put both your footballing knowledge and your English football vocabulary to the test with an English football vocabulary crossword. The answers to the clues are all useful footballing words and phrases.


· European Competitions


UEFA Champions League - General
The UEFA European Champions' League is one of the world's toughest football competitions. Complete the crossword to see how much you really know about Europe's premier club competition.
2001 National Champions
OK, so you know Manchester United won the English Premiership in 2001? But who won the Spanish Primera Liga? Or the French Championnat? Test your knowledge of the leagues of the world by completing the puzzle.


· English Football



· Italian football


Italian Serie A - General
The Italian Serie A is one of the most glamorous and exciting leagues in the world. Test your knowledge of this world-famous league by trying to complete the puzzle.
Italian Serie A - Players
How much do you know about the galaxy of stars who play in the Italian Serie A championship? Find out by trying to complete the puzzle.



[ Go Back ]