United for Unicef SMS Prize Competition
July 2005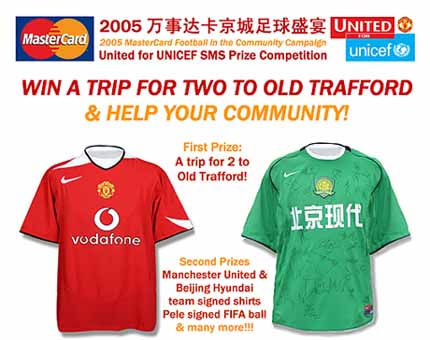 Enter the new United for UNICEF SMS Prize Competition and predict the score of the Manchester United v Beijing Hyundai match on 26th July and you could win a trip for 2 to see Manchester United in action at Old Trafford!

To enter, simply:
Text "CFMU" to 2858229 (China Mobile users) or 9858229 (Unicom).



Reply to the text you receive with the number of goals (a digit from 1-9) you think Manchester United will score against Beijing Hyundai at the Workers' Stadium in their Budweiser Cup match on Tuesday 26th July.



You will then be asked how many goals you think Beijing Hyundai will score - reply to this again with a number from 1-9.



Your entry is complete! You will receive a short text confirming your entry, and confirming that the cost of entry is 1.5 Rmb.
You can enter the competition as many times as you like. The more times you enter, the more likely you are to win a prize, and the more money you help us to raise for charity.




The top prize of a trip for two (with flights sponsored by Malaysia Airlines) to see Manchester United in action at Old Trafford next season will be drawn from the correct entries after fulltime on the 26th July. Other prizes will be drawn from all entries to the competition, so even if you get the score wrong, you're still in with a chance of a prize!




In addition to the top prize of a trip of a lifetime to see a Manchester United home match at Old Trafford during season 2005-06, there are a host of other prizes including autographed MUFC and Beijing Guo'an shirts, a Pele signed FIFA ball, and individually signed shirts by stars Ryan Giggs and Quinton Fortune.




Plus, if you enter before 09:30am on Friday 22nd July, you'll also be eligible to win tickets to the match itself, and tickets to the Manchester United training session on Monday 25th July. Winners of these prizes will be drawn at the ClubFootball Centre on Friday 22nd July.




The United for UNICEF SMS Prize Competition is the second phase of the 2005 MasterCard Football in the Community Campaign. The competition is raising money for both a local charity (Beijing Hui Ling) and the international charity "United for UNICEF", a longstanding partnership between Manchester United and Unicef which has raised more than GBP1.5 million to directly impact the lives of over 1.5 million children globally.




The MasterCard Community Cup has already raised more than RMB 140,000 for worthy causes. Help us to push towards RMB 1M by entering the United for Unicef SMS Prize Draw competition!

Please click here to visit the ClubFootball Events section for full competition information.





Copyright © by ClubFootball - Fan Channel All Right Reserved.

Published on: 2005-08-20 (3169 reads)

[ Go Back ]