China Football Fans World Cup Comp
June 2002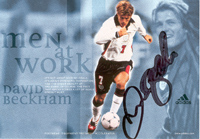 In May/June 2002, China ClubFootball teamed up with its partners adidas, Zhongguo Zuqiubao, Zhaopin.com and Fastum to bring Chinese football fans a sensational World Cup 2002 competition.
Prizes on offer were three (3) first prizes of postcards personally signed by England captain David Beckham, as well as ten (10) second prizes of adidas World Cup T-shirts and one hundred (100) tubes of Fastum as third prizes.
To enter the competition fans simply had to predict would will win World Cup 2002 and submit their contact details. There were three ways of entering the competition: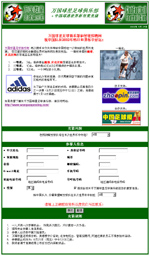 Online by going to http://worldcup2002.zhaopin.com
By post by filling out the coupon published in the Zhongguo Zuqiubao's daily World Cup edition.
By filling out a form at the ClubFootball speed shot event at the Workers Stadium North Gate (Gongren Tiyuchang Beimen)
The competition was open for entries up until the quarter-final stages of the World Cup (12:00 midday on Friday, 21st June) to give contestants opportunity to assess the teams' form.
As an additional question China ClubFootball also polled entrants on which team beside China they would most like to win the World Cup. The votes were cast as follows:
Brazil 25%
England 15%
Italy 12%
Argentina 8%
Germany 8%
Senegal 6.5%
Korea 6%
Spain 6%
France 4%
Portugal 3.5%
Japan 2%
Mexico 1.5%
Other 2.5%
Copyright © by ClubFootball - Fan Channel All Right Reserved.
Published on: 2004-05-20 (3350 reads)
[ Go Back ]